The One Maternity Bra That "Grows With You" Through Pregnancy, Postpartum, and Beyond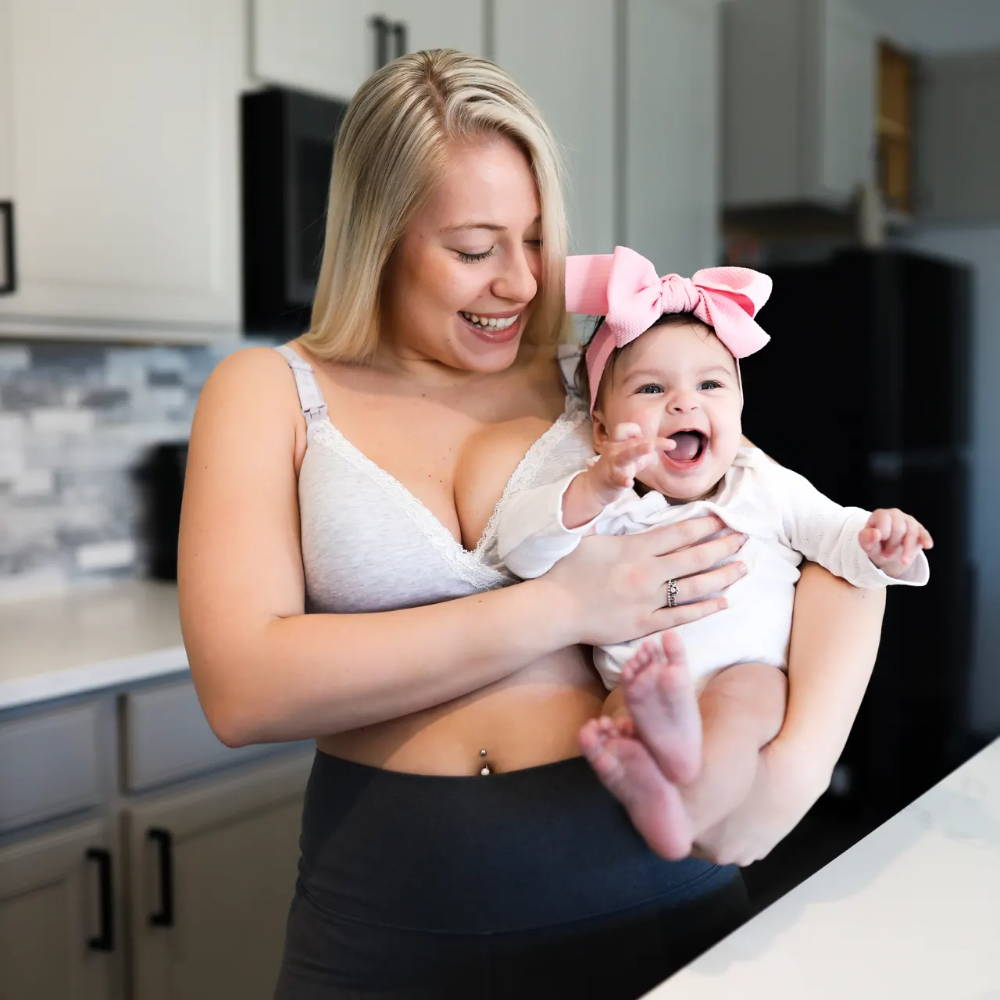 The Momma's Comfy Bra let's you have a more comfortable and enjoyable maternity!
⭐⭐⭐⭐⭐ Rated 4.4/5 by 4900+ Reviews
🔒 Secure 256-bit SSL encryption

---
You Will Only Need One Bra
As mommas ourselves, we know how much your body grows and changes during maternity. It can be really frustrating to find a bra that fits perfectly. The Momma's Comfy Bra is specifically designed to stretch and adjust with your body so that it will keep you comfortable through all stages of maternity.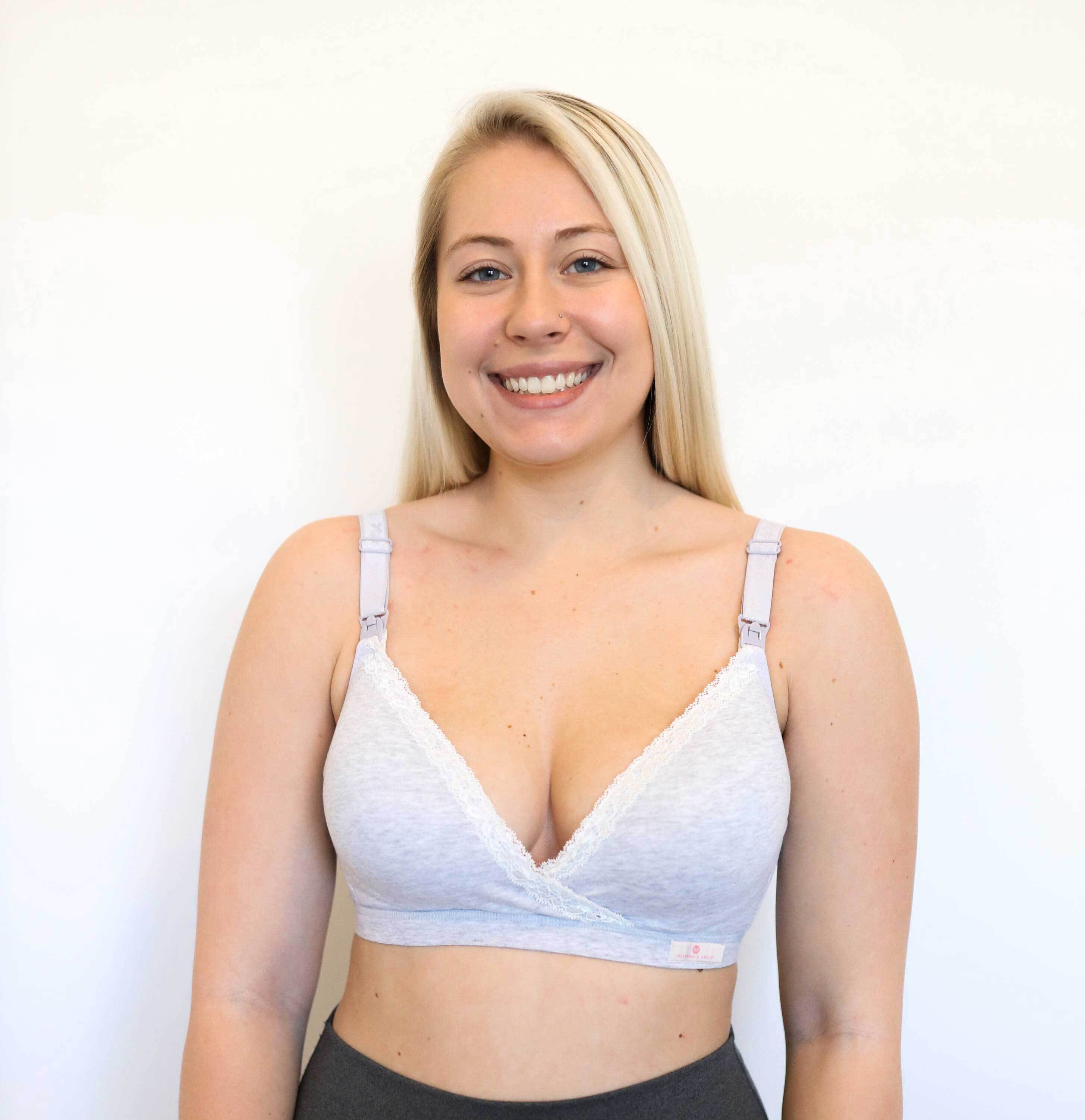 The stretchy yet supportive under band (no underwire here mommas) expands to fit your ribcage as it grows during pregnancy. The split design of the cups allows the bra to expand and contract with your girls as they change size when nursing.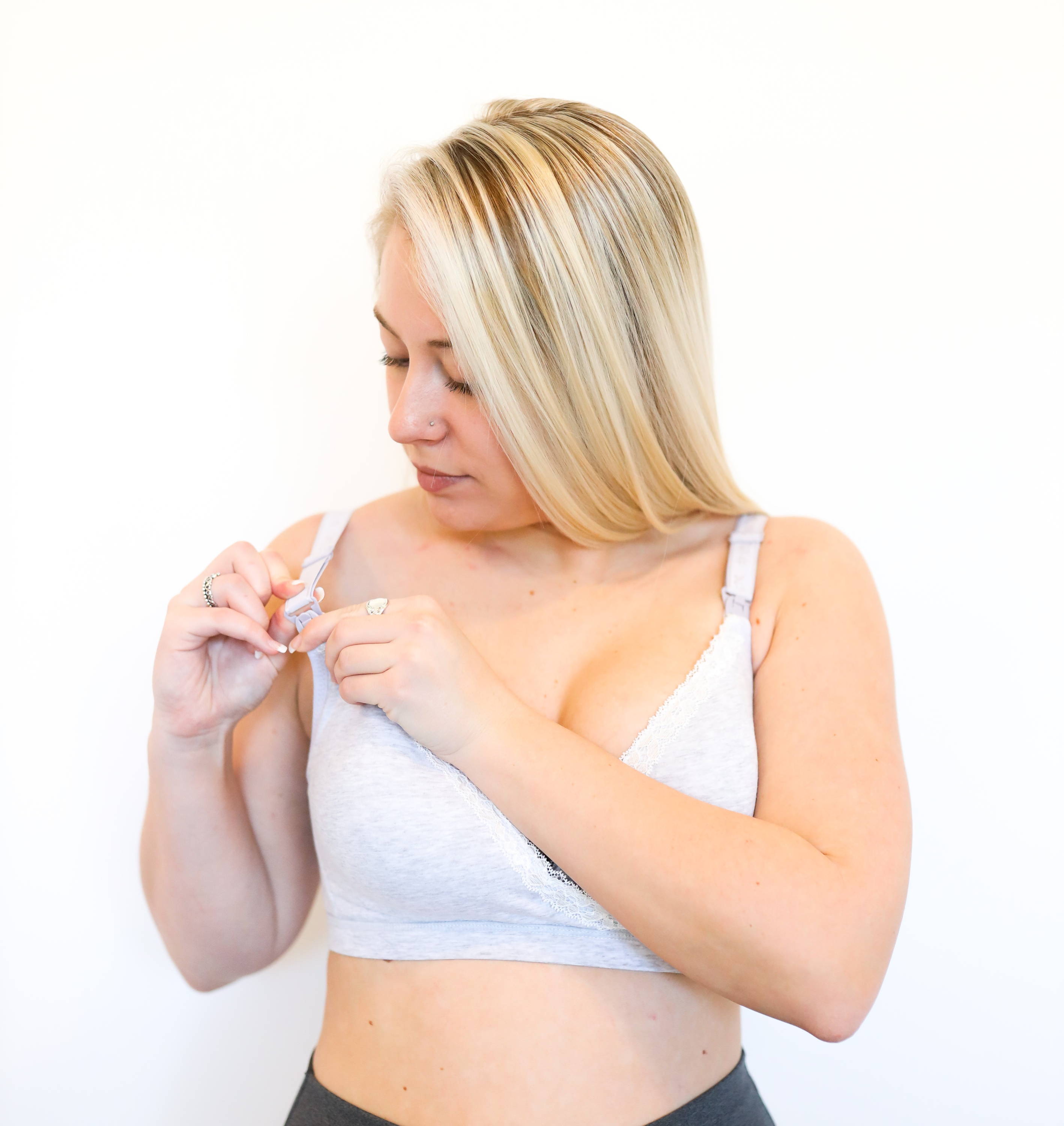 The thick shoulder straps and can be tightened or loosened to your liking. Along with several hook options in the back there is more than enough adjustment to make sure the bra fits your body like a glove.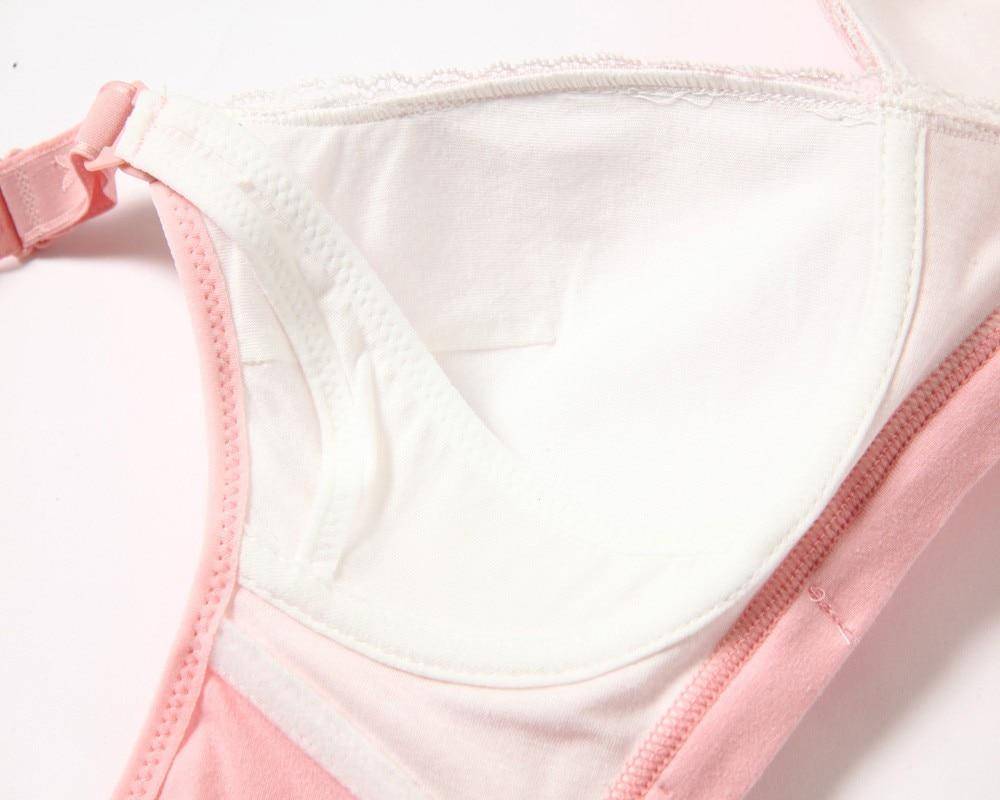 Made responsibly of 95% cotton and 5% spandex our bras are the softest things you'll ever put on while still being able to expand with your changing body.
So Soft and Comfortable You'll Wonder if You're Even Wearing a Bra
Perfectly shaped cups hug your girls with the same snugness at their largest and their smallest.
Even without an underwire, the bra provides all the support you could need without ever being restrictive.
Made of the softest all natural cotton, the bras are softer than your baby's bottom.
The Sexiest Maternity Bra on the Market
Most maternity bras out there are dull and boring. Boring colors, boring designs, no spice at all. They make you feel like once you get pregnant you don't deserve to feel sexy any more. At Momma's Shop we believe the opposite is true.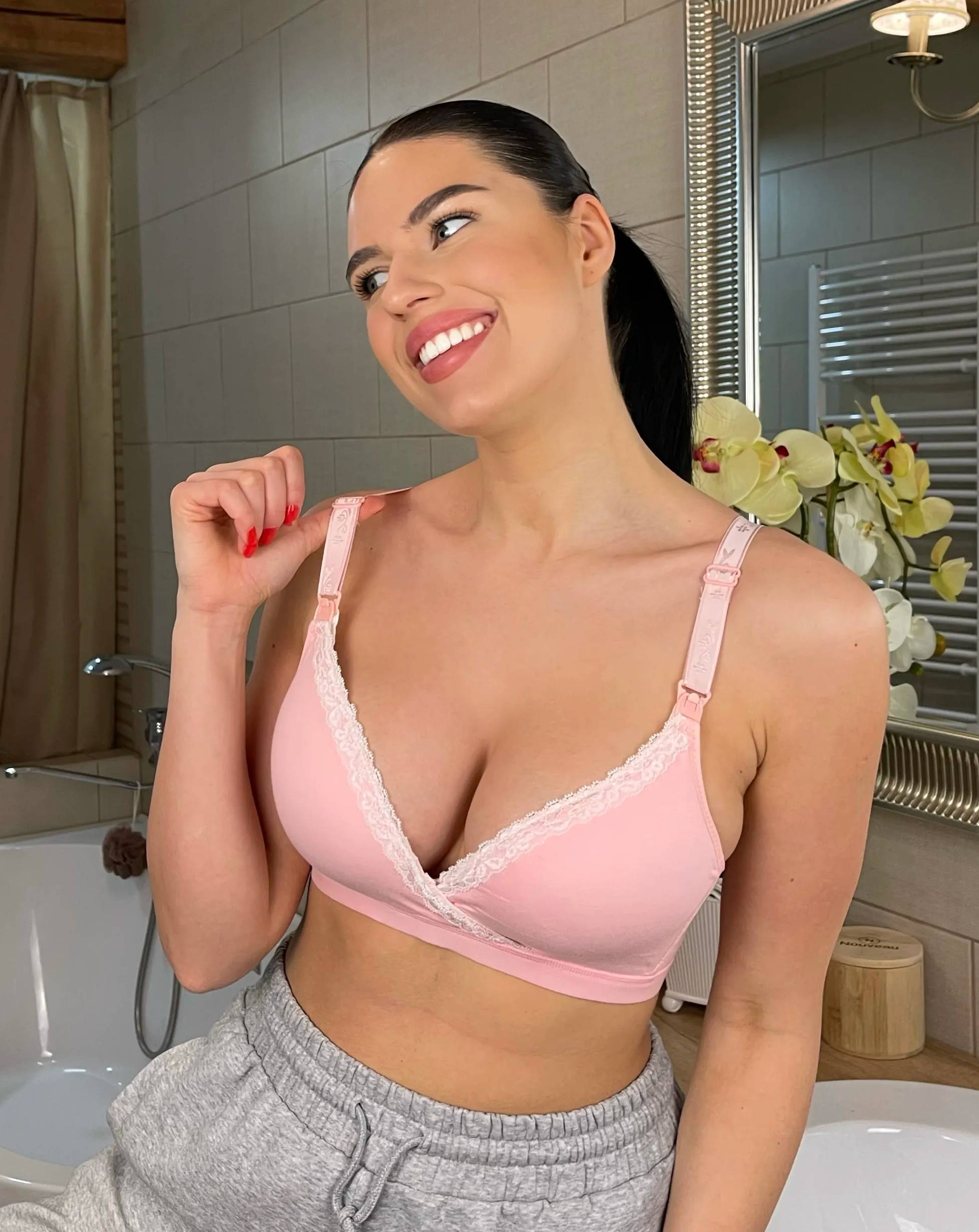 We wanted to create a bra that makes mommas feel sexy, feel confident, feel good in their own bodies even as they are growing and changing so much. Here's how we did it:
A low cut that is just revealing enough. Since most maternity bras are high cut, you can't wear them with sexy clothing. Our bras fit with all of your favorite tops.
The perfect amount of support to make your girls look amazing, without leaving them feeling restricted at all.
Lace detail and color options. The final touches that make the bra look extra cute on you.
2-in-1 Nursing and Maternity Bra
Once your munchkin is born, it's time to switch over to a nursing bra. They make breast-feeding discreet and convenient, since the cups easily unclip from the front of the strap.
Normally you'd have to go out and buy more bras, but ours doubles as a nursing bra - making the journey into motherhood as easy as possible.
The clips used on Momma's bras can easily be unclipped with one hand and won't ever catch on, or damage your clothes.
100% Perfect-Fit Guarantee
Even the best bra is no good if the fit sucks!
While our bras are highly adaptable (wear them a few times and you'll begin to notice), sometimes the fit just isn't right.
That's why we have our 100% Perfect-Fit Guarantee:
Try our bras on at home, wash them and if you're not 100% satisfied with the fit within 30 days of receiving your bras, simply send us an email, return the bra to us, and we'll replace it with a different size. Your first return is FREE, a shipping label will be sent to you :)
The Momma's Comfy Maternity Bra has 3100+ 5 star ratings ⭐⭐⭐⭐⭐

Why Do Mommas Around the Country Love Our Bra?

"How cute! Even during pregnancy and postpartum when your not feeling all that sexy, having this bra on makes you feel absolutely wonderful."
- Samantha R. ⭐⭐⭐⭐⭐
"I wish I would have found them sooner, because they are absolutely amazing. I have gone through lots of different nursing bras and I have to say these are my all time favorite."
- Jessica M. ⭐⭐⭐⭐⭐
"I ordered Momma's Shop bras and they are the most comfortable thing I've ever worn... I can wear them at night, I can wear them while jogging. They've got enough support, but not so much that it hurts"
- Summer N.⭐⭐⭐⭐⭐
Frequently Asked Questions
Our bra "grows with you" thanks to its unique spandex infused cotton fabric. The fabric will stretch without adding any additional pressure, to give you the most comfortable experience possible.
Our bra is under-wire free! It has all the support (& more) of regular under-wire bras, but none of the discomfort. You'll forget you're even wearing a bra.
IS CLIP EASY TO USE WITH ONE HAND?
Yes, the front facing clips have been designed to easily unclip without damaging or catching on your clothes.
CAN I USE NURSING PADS WITH THIS?
Yes, but our bras already have built in pads which are extremely soft & comfortable, as well as naturally anti-odor.
Yes, our bras have sewn in pads which are extremely soft & comfortable, as well as naturally anti-odor.
You can buy our bras anytime during pregnancy or postpartum as they're so adaptable and will fit perfectly throughout your whole journey :)
CAN I WEAR THIS WHEN SLEEPING?
Yes, our bras are very comfortable and won't bother you during sleep.
WHAT IF THE BRA DOESN'T FIT CORRECTLY?
You may return it to us for a free replacement!
Our mission at Momma's Shop is to provide the bras you deserve at a price you'll love.
That's why we're running a special promotion where you can get 3 Momma's Comfy Maternity Bras for only $39.95.
The thing is, it's such a good deal we're struggling to keep up with the quantity of orders we're getting.
So if you want to feel the instant relief you get from putting on a Momma's Comfy, you better act fast!
Get your bra before it's too late!
---